2023 Canada Games Team
---
Who's Got Our Backs Banner Campaign
November 13 to Dec 1, 2022
What is the Campaign About?
The 2023 Ringette PEI Canada Games Team is looking for supporters to have their "Backs" by making a small donation to their team to have their name (or all the names of those living in their household) placed on a banner that will hang in their change room before every game.
Watch the Video
How do I get involved?
If you choose to participate you decide if:
You want to pay $5 to have your name on our banner; or
You want to pay $10 to have every name in your household place on the banner
You do this by:
Direct contact with a team member or their family if you know one; or
Filling out a Google Form by inputting the information; or
Email us and include whether you want the $5 or $10 option and the correct spelling of the name(s)
How do I pay?
You can give the money directly to one of the players or their families (if you know them)
Or
Send an E-transfer to ringettecg23@yahoo.com and be sure to include the name of the person who submitted the request so we can cross reference our list.
Where do the funds go?
The funds will be used to offset program costs including travel and ice rental costs. To play games the team must travel to a variety of locations to compete against other Canada Games caliber opponents. We have competitions in Winnipeg, Montreal, Halifax, Dieppe, Bathurst, Oxford and Bouctouche as we prepare for the Games and most of these involve nights away in hotels. Sixteen of the eighteen players on the team are in University or College and we have two high school students so they could really use your support.
100% of the funds goes directly to support these 18 incredible athletes (and people) as they prepare to represent PEI at the 2023 Canada Games in the sport of ringette at the Cavendish Farms Wellness Center in Montague from February 18-25, 2023
Our Team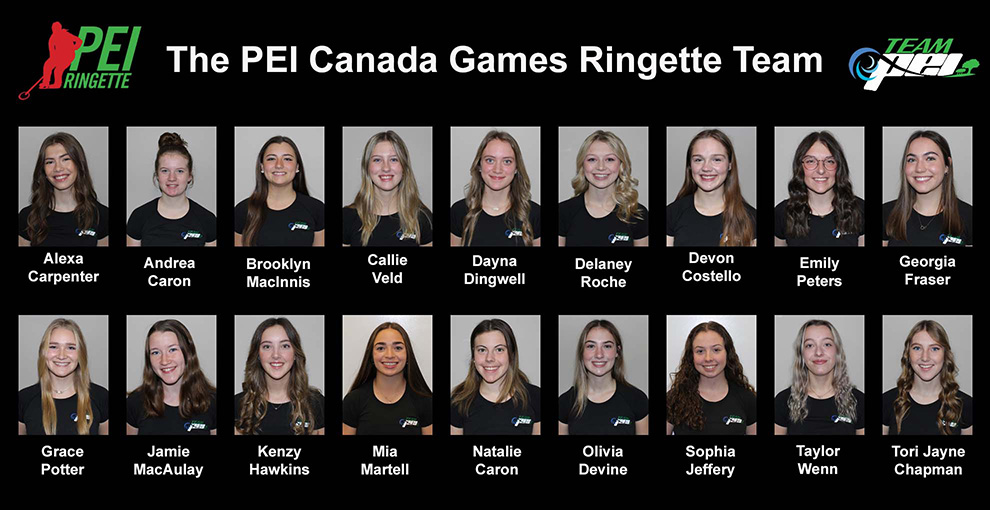 Coaching Staff:
Tara O'Brien
Emily Hughes
Brynn Van Wiechen
Francois Caron